I live in Brooklyn, New York, surrounded by people whose dream brought them to New York City. These are creative people, aspiring actors, opera singers, fashion designers, photographers, artists, writers. If their dream isn't paying the bills yet, they get another job and lead parallel work lives.

Melissa McClain, Photographer and Visual Artist
Melissa McClain is a Brooklyn artist who has two full time jobs – one with a purpose she cares deeply about and the other that nurtures her creative soul. By day a crisis management professional with an expertise in survivor and family assistance, she has a second "job" as a photographer. She created the beautiful Water Colors photographs accompanying today's post. With her camera, she finds color and patterns and drama on the most everyday industrial, urban, and seaside objects.
Many people who are very successful in their careers reach a point when they realize that something is missing, often a need for self-expression.
"I've been able to travel around the world and help companies who truly care about their employees, customers, and the family members who are affected by crisis events," says Melissa. "But after 13 years with a focus on disasters and 'the unthinkable,' I was beginning to feel burnout from the stress of my job. I needed an outlet that embraced joy, happiness, and beauty. I started out about three years ago taking my camera along on business trips and vacations. Occasionally I gave prints to friends who requested them. Then I created my first Water Colors image. The colors and textures inspired me and spoke to something deep in my soul."
"I feel completely whole, satisfied with self, and confident with my camera in my hand and a world before me to capture. When I'm out shooting Water Colors I can guess which ones will be special and sometimes I already have plans for them before I even download them from my camera."

When you have a "two career" life, and so much is going on, staying on track toward your dream can be difficult.
"I wasn't doing very well at juggling the job and my art until I attended something called Vision Day. One of the coaches suggested that I view my dream as my second job. That really hit home for me. It actually changed the way I live. I am now up early every morning so I can fit both "jobs" into my day. Some days I'm tired and it gets really hard to keep up the pace. But I know, in the end, it will be worth it. Debbie Phillips, author of Women on Fire: 20 Inspiring Women Share Their Life Secrets (and Save You Years of Struggle!)
, gave me a quote that I love. "
Don't stop before the miracle.
"When I'm feeling frustrated or second guessing myself, I stop and recite the mantra. My whole attitude changes and I'm renewed and ready to take the next step. We all have our "miracles" – our dreams and passions – and the key is to not give up before we get there. Because we will get there!"
Melissa's tips for people who are working towards their dream or who have a dream but haven't started the journey.
1. Connect with other people. Go out and volunteer or participate in new activities. Ask for help when you need it. If you don't have a support network with people who understand and support your dream, get one!
2. Don't get discouraged and don't give up. One of the people in my support network told me that when the doubts are the strongest, you are the closest to the next step of your dream coming true. This is such an empowering statement and takes the sting out of those times when doubt sneaks in; it's just a prelude to something extraordinary.
3. Be kind to yourself! Celebrate your achievements, big and small. You're balancing a lot so recognize your successes and your determination to keep going. On bad days, try a little self-care and TLC.
4. Stay on track. Identify your goals and create a detailed action plan for achieving them. WRITE IT DOWN! LOOK at it often!
To see more of the melissaAnne Photography Water Colors Collection.
Visit her website at http://www.melissaannegallery.com
Visit her blog at http://melissaannephotog.wordpress.com.
If you're in Brooklyn, Melissa McClain will be the featured artist at:
Linger Café December 1-14. Stop by and see her work.
[BTW: Linger's fresh, homemade food is delicious. My mouth waters at the thought of a recent Sunday brunch. And we did linger!]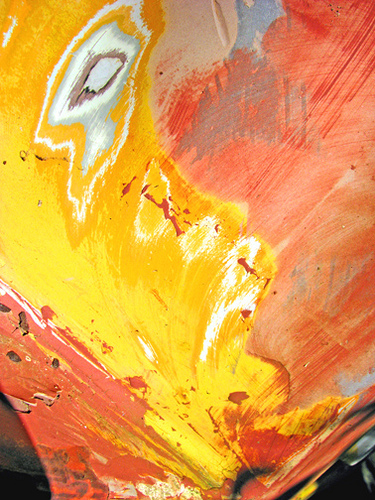 If you enjoyed this post, please consider leaving a comment or subscribing to the feed to have future articles delivered to your feed reader.