Les Fehmi, Open Focus Brain, Part 2
Last year I wrote about Dr. Les and Susan Fehmi, and their work. The post included a short video to introduce them, and in it they talk about the benefits of Open Focus attention for reducing anxiety, optimizing your performance and your health and well-being. I'm interested in their work, because when I'm in midst of change – whether I'm making it happen, or it's happening to me – I deal with anxiety, and at the same time I want to be at the top of my game. And there's plenty of tug-of-war between the two.
Last Fall, I did something I never imagined myself trying …I attended the Fehmi's workshop in Princeton, New Jersey, and spent a couple of days with my head wired up to a Neurofeedback machine. And now I'm a believer – it felt wonderful and freeing and to be in that place where I was producing a steady stream of alpha brain waves. I spent two days in the company of massage therapists, psychiatrists, nurses, internet marketers, computer scientist, creativity experts, and psychotherapists who hailed from across the US and Europe, and couples who were connected to the same machine, learning "couples synchrony" (BTW, they mentioned the resulting "honeymoon effect".)
A few people seemed to be old hands, back for a refresher session with Dr. Fehmi. One of them, my partner, kept talking about "getting a hit of alpha". He also patiently explained a lot to me…that Les Fehmi is one of the premier "Alpha Trainers" in the country, if not the world. That learning how to produce more Alpha brain waves fills you with a sense of well-being, a sense of letting go of anxiety, of inspired imagination and creativity, and of opening up and connecting with others. That as we age, we produce fewer alpha waves, so to "brighten" our minds we need more alpha.
Here's Dr. Fehmi with one of my fellow participants: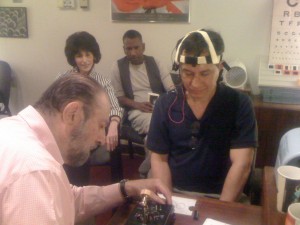 I can produce more Alpha brain waves (and so can you) by listening to Open Focus guided exercises and noticing how I'm paying attention in any moment. You don't need the neurofeedback machines to train your brain. Though I recommend it. It gave me a rapid and accurate way to recognize what it feels like to "be in alpha", and what I was thinking or not thinking about to get there.
There are still places available in the Fehmi's upcoming May 2011Open Focus Workshop in Princeton, but as a result of the release of his second book "Dissolving Pain" in September, seats are going more quickly than usual. It's an opportunity to work directly with the Fehmi's, and to begin the process of gaining CERTIFICATION as an Open Focus Trainer. If you work with clients or patients, you'll be able to offer them another service – and potentially another source of income for yourself. To learn more, watch the video below, and go to http://www.openfocus.com/WORKSHOP.html.
Children and Open Focus Attention: Susan Shor Fehmi
Podcast: Download (0.0KB)
If you have experience with Open Focus brain exercises, or with other ways to overcome anxiety and get unstuck, tell us about them. What works? What doesn't? Thanks!
Related websites for more information:
Les and Susan Fehmi's Open Focus and consulting practice websites
Dissolving Pain – Using Your Attention and Open Focus

If you enjoyed this post, please consider leaving a comment or subscribing to the feed to have future articles delivered to your feed reader.
Audio clip: Adobe Flash Player (version 9 or above) is required to play this audio clip. Download the latest version here. You also need to have JavaScript enabled in your browser.