Harness the Power of Attention
to Manage Stress and Enjoy Your Life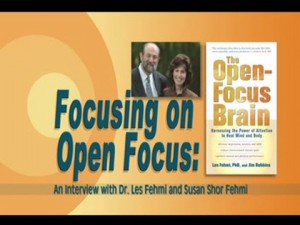 To get the free mp3 REPLAY, please provide your name and email address in the form below. We'll send you event announcements. Please note: I take your time and your privacy seriously and will never sell or share my mailing list; and I won't send you daily email messages.
You'll receive an email message from "Nine Work Lives". Click the link and I'll send you an email message with a link to the Fehmi interview. You can download the mp3 or listen from your computer.
Who may be interested?
Executive and life coaches
Therapists (for adults and children)
Body workers
Health professionals,
Musicians, Artists and Creative professionals
Neurofeedback professionals
Anyone who  needs a simple, proven technique for reducing Stress and Anxiety
Anyone interested in optimizing mental and physical performance
"Dissolving Pain", Dr. Fehmi's new book with co-author Jim Robbins is due out in September 15th, 2010.
Keep an eye out for a new 3-session Book Launch Teleseminar with the Fehmi's and their guests.
Archives by Category

Archives by Month